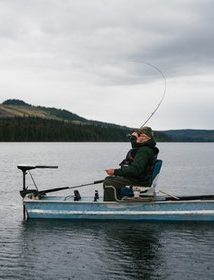 There is a lot of satisfaction in catching a big fish. If you are not passionate about fishing, you won't understand it. Fishing is a great hobby, and some people go further to become professional anglers. This blog is about fishing and angling. The blog is helpful not only for the anglers but also for those who simply want to learn more about fishing.
Here you will find various articles related to fishing that includes tips about caching fish, equipment needed, types of fish you can catch, location of fishing, coarse fishing, and more. You will learn about the upcoming fishing tournaments and learn how to participate in those matches.
Whether you are a beginner or a pro, you will get informative articles to read. There will be interviews of the expert anglers, and they will give you advice on fishing. Here you will find reviews of the latest fishing gear and apparel. You will learn about the importance of safety in fishing.
You can go fishing near to shore or on a boat. You can also do freshwater or saltwater fishing. You will learn the differences in these circumstances and know the tricks to catch fish.
Fishing competitions are held all over the year in many places, especially those surrounded by lakes. These competitions give serious anglers a chance to showcase their talents.
The competitions take place at the club, national or international levels, and depending on your expertise, and you can participate in them. You will know about the rules to participate in these competitions here and learn about the prizes too.
The articles here will make you more knowledgeable about angling. You will know how to catch fish like an expert. We hope you will find this blog very informative and ask your friends to read the blog as well. Keep yourself updated by reading the latest news about fishing.